Flashing your USB key
From the Connection panel of Choregraphe, you can choose to flash the USB key of the robot you are connected to.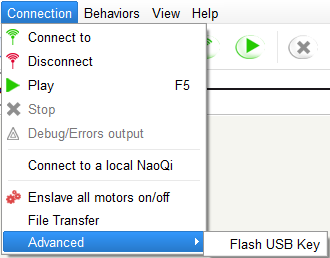 If you click on this option, you will have to get a ".ext3.gz" image of opennao (on the DVD it is in the > ). It will then be uploaded through FTP on the robot. When the upload is finished, you just have to restart your robot, and wait for the flashing process to be over. Do not switch the robot off while the flashing process is running.
| | |
| --- | --- |
| Note: | You can also flash the USB key outside Choregraphe. For more information refer the Software update of the red documentation. |
Copyright © 2010 Aldebaran-Robotics - All rights reserved