The VIPER project was a two-year Technology Transfer project, sponsored by Flanders Innovation & Entrepreneurship, and conducted by the research group EAVISE of KU Leuven, Campus De Nayer, in collaboration with a consortium of a dozen different companies. The goal of this project was to study reliable methods of detecting people in camera footage for security and safety-critical applications. In particular, we looked at the use of infrared cameras as a way of building more reliable systems, and we examined AI techniques for detecting abnormal behaviour in the observed subjects.
Together with the participating companies, we examined several concrete case studies with industrial relevance. Examples include a system for warning operators of heavy machinery of the presence of people near the machine, and a system for suicide-prevention on a railroad platform.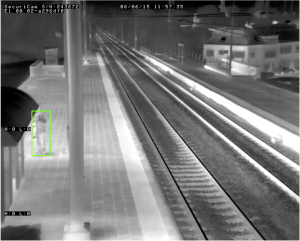 This resulted in experimental results, open-source code and a number of scientific publications, such as:
Van Beeck, K., Van Engeland, K., Vennekens, J., Goedemé, T. (2017). Abnormal Behavior Detection in LWIR Surveillance of Railway Platforms. Proceedings of the 14th IEEE International Conference on Advanced Video and Signal based Surveillance (AVSS) (accepted). The IEEE International Conference on Advanced Video and Signal based Surveillance (AVSS). Lecce, Italy, 29 August – 1 September 2017, 2017.
On November 9th, a broad symposium will be held to conclude this project. Here, the results of the project will be presented and participants will get the opportunity to meet the participating research groups and industrial partners. You are very welcome to join us at Campus De Nayer (Sint-Katelijne-Waver, Belgium) for this event! More information about both the project and the symposium can be found on the project website.
(Would you like to have your own project reports or event invitations included in the BNVKI newsletter? Email editor@bnvki.org!)